Supply Chain & Logistics Management
Min.Qualification: Degree
Course Duration: 9 months
Sessions by Industry Experts
Placement Preparation Sessions
Paid On-Job Training
Logistics is used more broadly to refer to the process of coordinating and moving resources, people, materials, inventory, and equipment from one location to another for storage. Our transforming training leads you to achieve the flying colors of excellence.
All courses are associated with Seekho. So job opportunities are guaranteed by Seekho.
About the Course
Our Supply Chain and Logistics course is a 9 months programme include 3 months classroom training and 6 months on job training with stipend. After successful completion of 9 months of classroom and industrial job training, students are awarded with a certificate which makes them eligible for different supply chain and logistics jobs in Indian as well as abroad. We believe that with right amount of effort & guidance every student can get placed.
Job Opportunities
Pursuing a career from Supply Chain and Logistics can open door for numerous job opportunities for you like -
Purchasing agent
Operations manager
Logistic analyst
Supply chain manager
Logistics manager
Eligibility & selection
Students who have done Bachelor Degree in any stream are eligible for this course.
Program benefits
After the successful completion of this program students may get benefit of - Assured job placements in logistic industry
The training will help the students to join various industries with the job roles which are much in demand.
Our industry experienced faculty members will give you in-depth knowledge of industry.
Soft skill training will help the students to achieve right industry attitude & behavior
By practical training students will get familiar with real industry environment
Students' Benefits
Studying supply chain management empowers you to keep the wheels turning smoothly -- both in everyday situations and in times of crisis. Gaining a better understanding of the flow of production and distribution will empower you to Collaborate more efficiently.
Course Module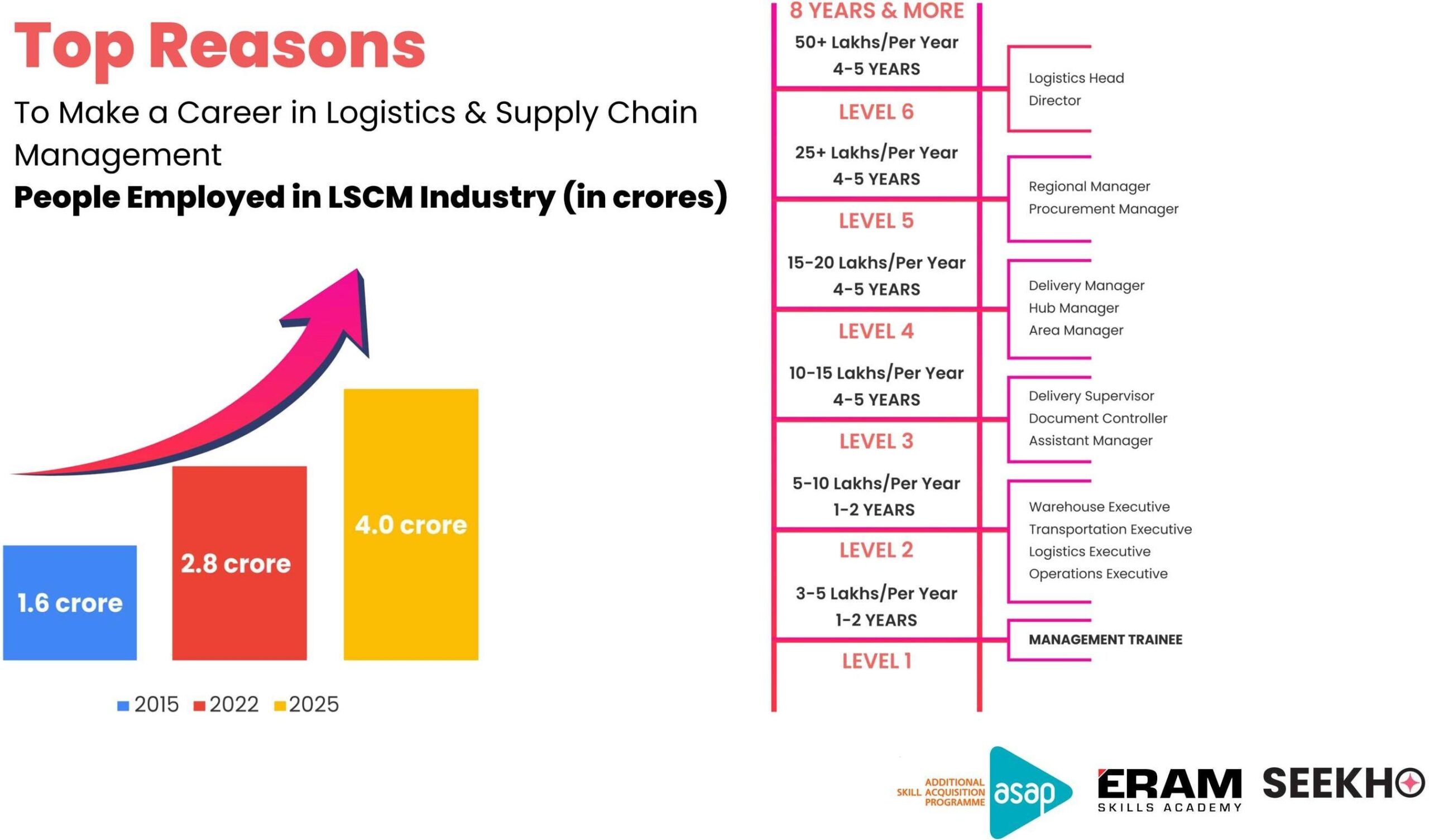 Why Should I Choose Supply Chain and Logistics Management Course?
If you think you have interests in industrial manufacturing and production niche of goods, then learning more about supply chain and logistics will be beneficial as it can give you a bright future. You can trust Eram Skills Academy for the following reasons:
A technology-driven education system with end-to-end training solutions.
Extensive personalised counselling to help students make informed decisions.
Hands-on, industry-accredited and approved training programs.
Unique and dedicated recruitment services.
Seekho is the 2nd largest job provider.
Scope and Benefits of the course
All time high job demand.Due to trade globalization, logistics is an incredibly fast-growing field, with an almost 20-year prominance in open positions. This also means that finding an internship during your studies will be relatively easy. We have a chance to achieve high-paying employment exclusive of a superior qualification.
START YOUR
TRANSFORMATION
with ERAM Skills Academy
Get the support you need. Learn with expert instructors and fellow students.